Want to find a place to chat with other active players of the latest Lords of the Fallen game? Look no further than the official Lords of the Fallen Discord server! Whether you're a newbie or a pro player, this is the place to be for tips, tricks, and the latest updates on the game.
But here's the thing on everyone's lips – where's that blooming Lords of the Fallen Discord link? No need to fret, we've got you sorted. In this guide, we'll spill the beans on how to hop aboard in the server.
So, why dilly-dally? Let's dive in and discover the world of Lords of the Fallen on Discord!
Also see – How to find Diminishing Missile in Lords of the Fallen
Where Is The Lords of the Fallen Discord Server Link
Here is the official Lords of the Fallen Discord server link (official & verified). Simply click on it and it'll take you to the official community hub. You can connect to Discord, sign in with your main account and use the Lords of the Fallen Discord invite link above to join.
Also see – How to Get Fitzroy's Sword in Lords of the Fallen
Where Can I Use Lords of the Fallen Discord
Discord is one versatile piece of kit! It's like that Swiss Army knife of communication. Fancy a casual conversation with other Lords of the Fallen players on your Android or iOS device? You're sorted. Got a hankering for a chinwag on your PC, Mac, tablet, or the like? Discord's got your back.
And it's even making its way to the PlayStation 5 soon, so you can have a proper conversation while you game. Now you can also get Discord up and running in your web browser, no downloads needed. Just pop over to Discord.com, log in, and get started!
You'll have access to all your servers and perks, wherever you fancy. And for Xbox Series X and Xbox Series S folks, you can get in on the action too, but you'll need to do a little jig with the Quarrel Insider App.
What is Lords of the Fallen
Lords of the Fallen is a colossal RPG adventure set in a sprawling world, bigger than five original games combined! After vanquishing the demon God Adyr, guess who's making a comeback? Yup, Adyr.
As a Dark Crusader, you navigate both life and the afterlife, smack down massive bosses, brawl in swift combat, meet quirky characters, and immerse yourself in a gripping story.
Your ultimate mission? Stop Adyr's resurrection and decide: will you be a hero or a mischievous scoundrel? Dare to Hope.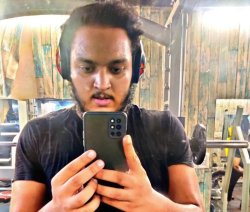 Latest posts by Amir Shiraz
(see all)