Why spend your hard-earned money on premium resources when you can just use these Nindo Fire Will codes to get them for free? Gold, Diamonds, EXP – you name it, we've got it!
Prepare to embark on an epic journey in Nindo Fire Will, the exhilarating Naruto game that will ignite your ninja spirit! With blazing fast action and intense battles, this game will push your skills to the limit as you strive to become a legendary shinobi.
Let's take a quick look at our list of active codes that you can unlock for free rewards in just few clicks.
Nindo Fire Will Codes Wiki
As of today, here are all the Nindo Fire Will codes available for you to redeem in the game:
TOPFAN7 (Expires on October 8th)
CompensationCrossServer3 (Expires on October 8th)
MergeServerBug (Expired October 8th)
GuildCompensation (Expired October 8th)
NINBROSFW231005 (Expires on October 8th)
MATILAMPU (Expires on October 8th)
Wickedmax0923 (Expires on November 1st)
NINBROSFW230922
TierMatchBug
SSRBugCompensation2
TOPFAN4
NINBROSFW230908
AllSSR25Star
CompensationElfShop
NINBROSFW230901 (Valid till September 04) (NEW)
NarutoKuramaMode (Valid till September 04) (NEW)
VietnamIndependenceDay (Valid till September 04)
TOPFAN2 
IndonesiaIndependentDay 
CompensationBondArena230814
DEEJAY0723 – (Expires on September 1st)
NINBROSFW230728 – (Expires July 31)
TOPFAN1 – (Expires July 30)
Muharram2023
TonTonCompensation
ProtectKonohaCompensation (Expired on July 23)
TonTonCompensation2 (Expired on July 23)
KaguyaOtsutsuki
Compensation230713
NarutoAndMinato
Compensation230628
DamageChange
BorutoJougan
Compensation230605
RecruitRework
InsigniaBoost
Compensation230512
WKVN0506
RANKMATCHOPEN
LR7777
SSKSusanoo
LR8888
VIP8888
VIP9999
LR9999
UR6666
UR7777
UR8888
UR9999
SSR1111
SSR2222
SSR3333
SSR4444
SSR5555
SSR6666
SSR7777
SSR8888
SSR9999
Nindo Fire Will FAQ's
Q: How do I redeem codes in the game?
A: So, to redeem codes in the game, things are a bit different. But worry not—it's not too difficult! The steps to complete it are listed below.
Step1: Launch the game and tap on "Avatar" option.
Step2: Tap "Settings" button and "Codes" on the new popup window.
Step3: Now copy & paste directly all the codes that we have given inside the text box.
Step4: Finally tap the "Confirm" option and your codes will be automatically applied.
Step5: You can check your mailbox to claim the rewards that were unlocked.
Just a friendly reminder, Nindo Fire Will gift codes can only be redeemed once per account, so it's important to use them wisely.
And don't forget to double-check the letter casing when entering the code, as gift codes are case-sensitive. Please keep in mind these tips if you want to make the most of your gift code.
Q: How to find new Nindo Fire Will gift codes?
A: Well, you could go and check the official Nindo Fire Will Facebook page, Discord channel, YouTube channel, or related Reddit forums for any promotions or giveaways.
Additionally, to improve your chances of finding gift codes, it would be helpful for you to participate in various in-game events or tournaments, as such activities often serve as a source of rewards for successful achievement.
Q: What do Nindo Fire Will codes do?
A: Nindo Fire Will codes can be redeemed to unlock premium rewards and other useful items in the game. This makes it easier to progress in the game without having to go through multiple hassles for premium resources.
For more mobile game freebies, check out the latest Kung Fu Saga codes & Astral Lord Origin codes list.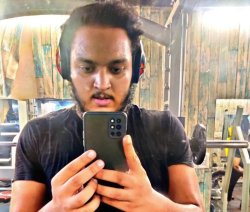 Latest posts by Amir Shiraz
(see all)