Overmortal is the latest online RPG developed by 'LTGAMES GLOBAL' for mobile devices. Since the game is very new, many players are constantly searching online for an Overmortal Ability guide for beginners, so we have come up with a guide that will help you understand the basics of Ability in Overmortal and what is their casting order.
So, without any further delay come and check out the new Overmortal Ability guide for beginners.
Overmortal Ability Guide
This guide is designed for players during their first month or so playing before ascension (void break). I hope you can learn a few things from this guide. Cheers and see you in the game!
Recommended Ability for Corpora
The recommended ability for Corpora is to go to the right branch of the ability, focusing mainly on getting Death Touch, Glacial Sword, and Hail of Swords.
Note: You should spend your first advancement knowledge on Death Touch. It has the highest multiplier for P. ATK, which results in powerful single-target damage. Also, you should be saving Citrines (from Sect and mining) to only buy books, otherwise you will get stuck like me haha.
Corpora is weak in PvM, and especially in PvP. Therefore, it is recommended (not necessary) to get the shield (Spiritual Wall) from the Magicka ability if you want to get ranks in arena.
Recommended Ability for Magicka
The recommended ability for Magicka is to go to the left branch of the ability, focusing mainly on getting Qi Blast, Pyrokinesis, and Blizzard.
Note: You should spend your first advancement knowledge on Pyrokinesis. It has the highest multiplier for M. ATK and a powerful debuff. Magicka abilities is relatively simple, you don't need any Corpora abilities to excel in PvM and PvP.
Recommended Relic for Corpora
Corpora relic is simple to craft, as there is only two main relic you should focus on. The Chain Relic, and the Seal Relic.
There is also the Bell Relic, which has the best DPS for Corpora Relic, but the use of Bell Relic is very situational, mainly because Bell Relic have much lower cooldown, so it is harder to pair with Chain Relic during casting.
Recommended Relic for Magicka
Magicka relic is a more complicated, because the use depends on whether you are fighting monster (PvM) or a player (PvP). Generally, many would favor Amulet Relic paired with the shield Trigram Relic. Banner Relic is less favorable because of the super long cooldown in comparison, while the Pearl Relic's shield is weaker and have shorter duration.
Magicka doesn't benefit from wearing AoE relic, because many of their abilities are already AoE in the first place.
Casting Order
Many beginners didn't realize the importance of casting order, or didn't even know that they can change it. Casting order can easily determine whether you break that annoying floor in Demon Spire, and getting ranks in Arena. Here is how you can change your casting order.
You will see this screen. Remember that you can press the "?" button for more detailed information.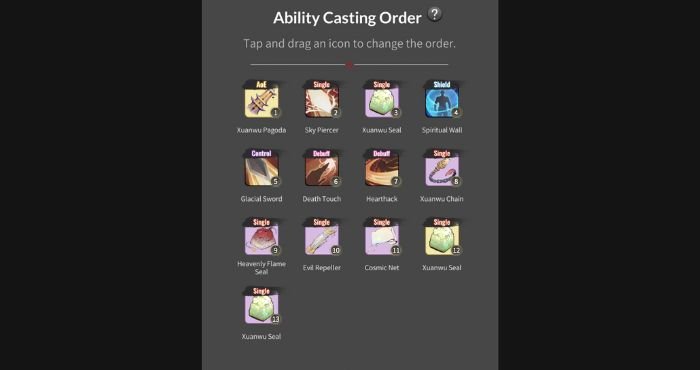 Casting Order for PvM
Casting order for PvM doesn't really matter much, but as a general rule of thumb, you should go with shield first and then debuff, followed CC (control) and buffs, and your strongest attack in order until the weakest one last. This is what it would probably look like with my current Relics and abilities.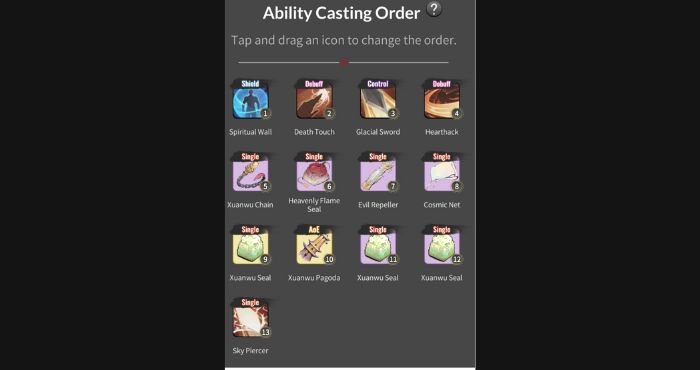 Casting Order for PvP
In PvP, pets become a hindrance, especially if you are lacking AoE skills and shield (like Corpora). The casting order for PvP depends on your damage, whether you can clear out the pets fast enough so that your skills damage the players. Therefore, you SHOULD NOT put your shield and strongest attack early on.
This would be (in my opinion) the ideal casting order for PvP.
AoE skills first for the first 2 or 3 slot, or if you don't have AoE, use your weakest ability upfront. This is done to kill the annoying pets. Followed with shield, CC, debuffs, and buffs. And then follow up with your active curios (which usually have very high P.ATK/M.ATK percentage), and just your abilities and relics from the strongest to the weakest. Magicka should also slip in a couple of shield relic in between this part, best if it is the Pearl Relic.
Something like this, for Corpora:
With that I conclude this Overmortal Ability Guide in which I have tried my best to cover all important elements of character ability in the game.
Did you enjoy this Overmortal Ability guide? Leave you suggestions in the comment box below!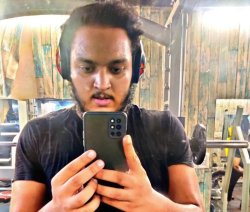 Latest posts by Amir Shiraz
(see all)