Welcome, fellow Robloxians, to a world of infinite possibilities! In Infinite Item Simulator, the only limit is your imagination as you punch and break Lucky Blocks to uncover a treasure trove of items, and climb the leaderboards. With our handy Infinite Item Simulator codes list, you can now take your game to the next level, unlocking boosts, coins, and premium accessories.
Published by "Sand Shark Games", Infinite Item Simulator is a Roblox game in which you step into a world where Lucky Blocks hold the key to infinite items. Punch and break your way to the top, selling loot for points, upgrading your Luck and Damage to snag the best items, and ascending to god-like status. With endless possibilities for grinding, exploring, and collecting, this game is a paradise for Roblox players.
Key Takeaways:
Roblox Infinite Item Simulator codes gives you free Gem boosts.
These rewards can be used to obtain rare items, and unlock greater levels.
BASICK is currently among the many working codes.
To claim your rewards, click the Codes button and paste an active code in the pop-up window and click redeem.
To stay up to date with the latest promo codes, we suggest adding this page to your favorites by pressing Ctrl + D and visiting once or twice a month.
Infinite Item Simulator Codes Roblox
The list below contains only fully functional Roblox Infinite Item Simulator codes. All the codes have been tested and are working at the time of writing the guide.
Active Codes List
GRIMSKIBI – (new!)
WHYMEE6 
OMNI-BOOST
1MBANANAS
QUINTCROWN
INFINITYPLUSONE
LAUNCH
BASICK
PUNCH
RELEASE
We suspect these active codes have the same sort of expiration date as those in other Roblox games, so make sure you redeem codes in the Infinite Item Simulator game before they expire.
If there are any special program livestream codes for Infinite Item Simulator added in the future, we'll be sure to add them too!
This article is part of our Roblox Promo Codes directory.
Infinite Item Simulator FAQs, Answered
How do I redeem codes in the game?
In order to obtain your rewards, you must first redeem your codes. Follow the steps below to successfully redeem your rewards!
First, you have to log in to your Roblox account.
When you are on the homepage of Roblox search for the "Infinite Item Simulator" game.
After that, click on the green play button – this will launch the game on your device.
In the main menu, you will come across the "Codes" icon on the main lobby.
This will open up a redemption window which is similar to the image given above.
Now, enter all the codes inside the "Enter Code Here" field.
Finally, you can now hit the "Redeem" button to redeem the inserted code.
If your code is valid you will get free rewards in your inventory.
What do Infinite Item Simulator codes do?
They are special codes given by developers to help players progress quickly in various stages of the game. Keep in mind, these codes can only be redeemed once, so you should be 100% sure when you think of using them.
Where can I get new promo codes?
If you want to stay up-to-date on all the latest Infinite Item Simulator promo codes and game updates you can join the game developers' official Discord server or follow their Roblox group and Twitter account. Just keep in mind that promo codes are pretty rare, usually only popping up for major milestones and big updates.
We're always keeping an eye out for new Infinite Item Simulator code announcements, so just keep this page open and you'll be the first to know about any sneak peeks or new Infinite Item Simulator codes. It's that simple!
Can I use a code more than once in the game?
No, you can only use a Infinite Item Simulator promo code once. After that, it becomes invalid and cannot be redeemed again.
If you are looking for more Roblox freebies check out the newest Sword Warriors codes, Smash Glass Simulator codes, Try To Die Dco codes, Fast Food Race Simulator codes, and Bug Swarm Simulator codes list.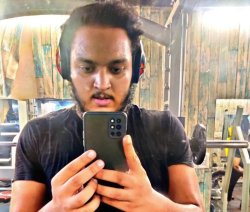 Latest posts by Amir Shiraz
(see all)