Welcome to our Roblox Swole Simulator codes wiki! Here, we will be providing you with a comprehensive list of all the latest and valid codes for the Swole Simulator game. Developed by 'Buff Bros Studios', this game is all about pumping muscles so that you can become the strongest player in the game. You will also have to hatch awesome pets that will improve your chances of winning fights against other players in the game.
But that's not all! You can make use of Swole Simulator codes and unlock premium rewards. We are checking for new codes everyday, so you don't have to go anywhere else for new updates. You simply have to keep tabs on this page for upcoming sneak peeks and promo codes.
Roblox Swole Simulator Codes
Before you jump into redeeming those Swole Simulator codes, there's a couple of things you need to keep in mind. Firstly, codes are case-sensitive, so make sure you are typing them exactly as they appear in the list. We wouldn't want you to miss out on some sweet rewards because of a small typo, would we? Secondly, most codes have a limited time frame for redemption, so it's best to redeem them as soon as you can.
Find codes for other popular games on our Roblox Promo Codes section.
How to redeem Swole Simulator promo codes?
To redeem Swole Simulator promo codes, you need to follow these steps:
Launch the game and click on the "Twitter" button on the left side of the screen.
On the new screen, you will have to click on the "Codes" option.
Type or paste the code you have in the "Enter Code" text field and press the "Redeem" button.
If the code is valid and still active, you will receive the reward associated with the code.
Related games – Rise Of Souls codes and Murder Mystery B codes.
Where to find new codes for Swole Simulator?
The best place to find new Swole Simulator codes is through the game's official social media pages like Twitter and Facebook, where the developers often post new codes for players to redeem.
Another great place to find codes is through the game's community on Discord Server, where 'Buff Bros Studios' the developers often communicate and share updates with players.
In any case, you can always check back here and we'll keep you updated on all the latest codes as soon as they're available.
Happy code hunting and good luck on your journey to becoming the ultimate fighter in the Swole Simulator universe!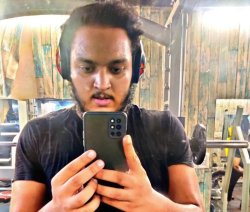 Latest posts by Amir Shiraz
(see all)