We have been on a hunt for the active Spirit Slayer Soul Power codes, granting you a hoard of opulent diamonds, pet armor, gold coins, and other fancy in-game perks. No need to wander further, because your search ends right here!
Spirit Slayer: Soul Power is an RPG that takes you on a journey in a stunning 3D universe. Call upon mystical spirits, battle enemies, and develop your soul's power.
With challenging quests, intense battles, and regular updates, this game's got it all!
Spirit Slayer Soul Power Codes List
FACE0D5B4D22C7 – Coin x50,000, Awakening Stone x50, Magataman x100
APKEXCGIFT – Gold Coupon x1, Coin x30,000, Magatama x100
tongyongma1 – Gold Coupon x1, Magataman x100
bleach11 – Coin x100,000, Magataman x200, Character EXP x 20,000
bleach88 – Gold Coupon x10
tongyongma2 – Gold Coupon x1, Magataman x100
tongyongma3 – Gold Coupon x1, Magataman x100
tongyongma4 – Gold Coupon x1, Magataman x100
TONGYONGMA1BC8 – Gold Coupon x5
Try These Older Or Expired Spirit Slayer Soul Power Redeem Codes
These Spirit Slayer Soul Power redeem codes have been informed as expired or no longer working. But there's no harm in trying! You never know, you might get lucky and get yourself a sweet reward.
There are currently no expired Spirit Slayer Soul Power redeem codes.
If you like mobile games, you will find our coupon codes for Hurrah Stone – Legend Trainer's Quest – Bonehead – Tower of God New World – Tribalpunk Idle Hero & Arena – Goddess of Fate IV Lilith – Evil Awakening II Erebus – MapleStory R Evolution useful.
How To Redeem Spirit Slayer Soul Power Gift Codes
To redeem codes in the game, you need to follow the given instructions carefully:
First things first, launch the game on your mobile device.
Now, select Avatar -> System Settings -> Pack Redemption buttons.
After that, enter all the working codes inside the Input Text Box.
And when you're all set, finish it off by a tap on the Submit button.
Your free rewards will be added to your in-game inventory.
Submit A Spirit Slayer Soul Power Code
Have you stumbled upon a working Spirit Slayer Soul Power code that you'd like to share? Submit it in the comment box below to lend a hand to fellow players in need.
How We Find The New Spirit Slayer Soul Power Coupon Codes
We exist to save you some money while you're busy gaming online. We help millions of players save money every month by helping them discover the latest coupon codes for their favourite game.
Our team works hours, searching for active Spirit Slayer Soul Power coupon codes. We discover, update, and publish hundreds of new mobile game coupon codes every day, meaning you'll always find an updated list on Clashiverse.
How We Verify Our Spirit Slayer Soul Power Promo Codes
It's downright frustrating when promo codes don't work. We're gamers ourselves, so we're all about making sure you get your hands on the latest and active promo codes.
Here's how we go the extra mile to ensure you always get the best active Spirit Slayer Soul Power promo code:
Our community of gamers: Whenever you use one of our promo codes, we'll ask you if the promo code actually worked or not. This feedback helps us separate the best codes from the rest.
We publish FAST: When it comes to finding promo codes, we're lightning fast. We find loads of new codes every single day, and we make sure you get them quickly. We know some codes expire, so we don't waste a second getting them in your hands.
We don't steal: Plenty of other websites like to steal promo codes from our website – we've seen it happen all the time. We know the importance of sharing only the most legit codes, so we stick to official sources. That means we check the game's official website and social media channels to find the real codes.
Download Spirit Slayer Soul Power
Title – Spirit Slayer Soul Power
Publisher – Circuit Squad
Genre – Adventure Game
Download – Android: Play Store
There you have it, our list of all the available Spirit Slayer Soul Power codes for December 2023. We hope you found this list helpful! If yes, drop a like and comment below 😉
Don't forget to give us a like on Facebook and keep up with the latest codes by following us on Pinterest, Reddit, and Twitter. We'd be delighted to keep you up to date on all of our intriguing new stuff.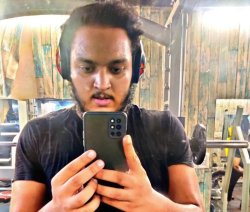 Latest posts by Amir Shiraz
(see all)