Welcome to the new Sword Slasher codes wiki! Published by "E25", this game is mainly about fighting and slashing your way through 100 waves of enemies, unlocking new swords and upgrading your character along the way. The AFK mode allows you to grind for gems even when you're not actively playing the game.
Whether you're an experienced player or a newcomer to Roblox sword fighting, Sword Slasher game has something unique offer for its players. So, start playing and see if you can become a skilled Sword Slasher and reach the top of the leaderboard!
Sword Slasher Codes Wiki
Here are all the new and working Sword Slasher codes that you can redeem for a free boost.
yayy10000!! – Free boost in new server. (NEW)

top2000like
Tiktok13
Wowo500likes
lol4000!!
wooo7000!!
omg300likes
a150likes6v
Note: Some Sword Slasher codes may be case-sensitive and can only be redeemed for a limited time. It is always best to bookmark this page for the most up-to-date list of codes.
Find codes for other popular games on our Roblox Promo Codes Hub page.
How to redeem Sword Slasher promo codes?
See the image above for reference and follow the steps below to redeem Sword Slasher codes easily:
Start the game and click on the "Twitter" icon on the right side of the screen.
Click on the Empty text field section of the new window.
Enter all the codes given and click on the blue "CLAIM" button.
If the code is valid, you will receive free boost.
Also check the new – Freddys Playground codes & Shortest Word Bridge codes.
Where to find new Sword Slasher codes?
There are several ways to find Sword Slasher promo codes:
Follow the game's official social media accounts, such as Twitter and Facebook.
Check the game's official Subreddit and forums for announcements and updates.
Join the official Sword Slasher Discord group. This is a great way to stay up-to-date on the latest news and codes for the game.
Keep an eye out for special events or holidays. The game developers may release codes to celebrate these occasions.
Alternatively, you can save yourself some time and check all the latest Roblox codes on our website. We update our codes page regularly to ensure that you have access to the most current and valid codes for the game.
So whether you're looking for a new code or want to see currently active codes, our website will be a great resource.
Thanks for reading and happy slashing in Sword Slasher!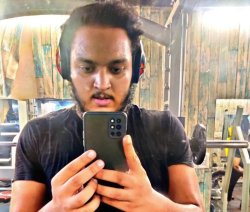 Latest posts by Amir Shiraz
(see all)