Missing out on exclusive rewards and resources in Tailed Demon Slayer RISE? We feel you! Searching for the latest codes can be frustrating. That is why we are here to help you! We've compiled the active list of Tailed Demon Slayer RISE codes you need in December 2023.
We've done all the digging for you, searching every corner for the latest updated Tailed Demon Slayer RISE gift codes. With this handy list at your fingertips, you'll unlock special perks, powerful equipment, and unique hero accessories.
Benefits of Tailed Demon Slayer RISE Codes
Level up your Progression: By using these codes, you'll supercharge your progression in Tailed Demon Slayer RISE. Unlock new heroes and upgrade your hero to a level where it strikes fear into the hearts of your enemies.
Dominate in PvP Battles: Want to show off your skills and claim victory in intense PvP battles? These codes will give you the edge you need! With the powerful equipment and bonuses unlocked, you'll have a strong hero.
Exclusive Accessories: By redeeming the Tailed Demon Slayer RISE codes, you'll gain access to unique character accessories and unlock special gear.
Active List of Tailed Demon Slayer RISE Codes
TDSRKR1ST – Gem x50k, Costume Summon Ticket x10 (NEW)
RISE0720 – Gem x3k, Gold Dungeon Ticket x2
RISE0721 – Gem x3k, Gem Dungeon Ticket x2
RISE0719 – Gem x3k, Gem Dungeon Ticket x2
Redeeming Tailed Demon Slayer RISE Gift Codes
You must follow the instructions given below in order to redeem codes:
Tap on the Menu, Settings, and Account icons on your mobile screen.
Then, tap on the Enter Code option on the new screen.
After that, an empty text box will appear on your screen.
Enter any of the codes given here in the empty text box.
Finally, tap on Submit to collect your free rewards from your mailbox.
Some Key Points to Remember
Account Binding: Connect your account to Facebook, Google, or Twitter to ensure you receive those benefits. You will be unable to redeem any codes if you play as a guest.
Expiry Dates: Remember that whatever is useful has an expiration date. Tailed Demon Slayer RISE redeem codes are no exception. Each code has an expiration date after which you will be unable to unlock the benefits.
Case Sensitivity: Pay close attention to the specifics because codes are case sensitive. That is, uppercase and lowercase letters are important.
About Tailed Demon Slayer RISE
Tailed Demon Slayer: RISE is a super exciting mobile game by CookApps in which your mission is to save the cursed Fox Beastmen from the evil clutches of King Lich. As evil forces resurface, you'll need to gather resources, plan your battles, and use your skills and weapons for victory.
Looking for more mobile game redeem codes? Have a look at OP Fervent Dream codes, Four Emperors Combat codes, GOH God of Highschool codes, Ninja Heroes Storm Battle codes, Inariel Legend Dragon Hunt codes, Legends of Eternity Idle codes, and many more codes.
Don't forget to give us a thumbs-up on Facebook and stay connected with the latest updates by following us on Pinterest, Reddit, and Twitter. We'd love to keep you in the loop with our exciting new content.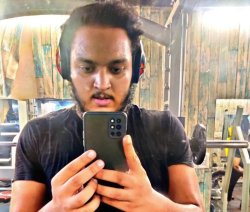 Latest posts by Amir Shiraz
(see all)