King of the West is a Wild West-themed MMO strategy game developed by "Games Hub Hong Kong Limited" for mobile devices. In this game, you play as a brave lone ranger trying to establish your own town. You'll need to gather resources, hire Heroes, and fight bandits in order to succeed. Just don't get too trigger happy, remember that in this game it's better to negotiate than to shoot first and ask questions later (unless you're dealing with a real scoundrel, then all bets are off).
There are plenty of exciting activities to enjoy in the open-ended world, including occupying enemy towns, searching for treasure, and going on hunts. And don't forget, you can always redeem special King of the West codes for rewards to give you a leg up on the competition. Yeehaw!
Now let us find out all the new codes that you can redeem in King of the West game today.
All King of the West Codes
sbt91700v
puyw4100m
x3yhm100m
g47ygo00m
zodj2p00m
2a6n6000m
c3o0e300y
1cm3z100y
n6z9u800y
mb49k600y
2izm8100y
vako6z00t
svq3tc00t
n9b1o800t
u7ieyx00t
gqsv9500t
6zajvc00t
ovpiw000t
4aspbq00t
3lnqm100t
v4i1an00t
1jj7q400k
It's important to note that these King of the West codes often have a limited validity period and can only be used for a certain period of time before they expire.
Also see: Last-Hit Defense gift codes & Animal Inc Casual Sim Tycoon codes
How to redeem King of the West gift codes?
Follow the steps given below to redeem all the codes:
Launch the game on your mobile phone.
Tap on the "Avatar" icon and then on the "Gift Code" button.
Now enter all the codes in the input text field.
Finally, tap on the "Exchange" button to claim your rewards. (See image above for reference)
So there you have it, the exciting world of King of the West and the special codes that can give you a boost in your journey to become the ultimate lone ranger.
Whether you're fighting bandits, searching for treasure, or just trying to build up your town, these King of the West gift codes can provide valuable resources and bonuses to help you on your way. Just don't wait too long to redeem them, as their limited validity means they won't be around forever.
Good luck out there in the Wild West, and remember to always keep your wits about you and your gun close at hand.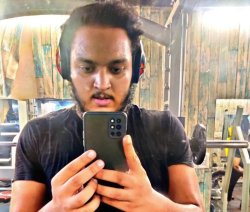 Latest posts by Amir Shiraz
(see all)