Even the sharpest blade needs a little polish, and that's where Phantom Blade Executioners gift codes come in!
These magical codes will sprinkle a touch of extra magic onto your demon-slaying journey, adding a dash of power, resources, and exclusive perks to your adventures.
With that said, let's dig into all the active Phantom Blade Executioners codes that you can use at this time.
More trending topics — Tokyo Ghoul Break the Chains gift codes | Cyber Rebellion gift codes | Paramon Go gift codes | Crimson Storm codes | Z Ball Saga gift codes
Phantom Blade Executioners Codes List
Last time I checked for new codes was December 2, 2023.
ANCJW6EG (Redeem for free Ingots)
Frequently Asked Questions
What's the aim of the game?
Phantom Blade Executioners released by SHARPMAN STUDIO LIMITED is an action-packed hack-and-slash game, you play as a badass warrior tasked with slaying hordes of undead monsters. With your trusty blade and a variety of powerful skills, you'll slice and dice your way through legions of enemies, leaving a trail of gore and gibs in your wake.
How do I redeem gift codes in the game?
Redeeming these Phantom Blade Executioners gift codes is very easy. The only thing needed from you is:
Launch the game in your mobile
When you load the game, tap the Settings icon
After that tap the Gift Code option
One by one, enter or paste the codes to redeem them.
How do I verify promo codes?
It's really annoying when promo codes don't work. I'm a gamer too, so I know how important it is to get your hands on the verified promo codes.
Here's what I do to make sure you always get the best active Phantom Blade Executioners promo code:
I test all of them: Before I share any of the promo codes with you, I personally test each one.
I publish FAST: When I find a new promo code, I publish it as quickly as possible. I know that some codes expire, so I don't want to waste any time getting them to you.
I don't steal: Some other websites steal promo codes from my website, but I don't do that. I only share Phantom Blade Executioners codes from official sources, such as the official website and social media channels.
Have fun, and good luck!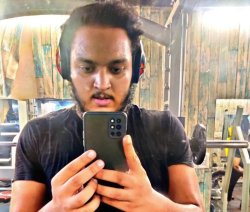 Latest posts by Amir Shiraz
(see all)