Welcome to Carv's Murder Mystery Codes guide. It is a thrilling online multiplayer game released by the developers of the same name Carv's Murder Mystery on Roblox. You must utilize your detective abilities and survival instincts to solve the murder mystery and come out on top in this game.
You will be assigned a role as you enter each round: Innocents, Sheriff, or Murderer. If you are an Innocent, your goal is to flee and hide from the Murderer while using your detective abilities to discover who they are. To survive and find the truth, you will need to collaborate with the other Innocents and the Sheriff.
That being said! Let us find out all the latest codes for Carv's Murder Mystery.
Roblox Carv's Murder Mystery Codes
C3L35T1AL
H4PPYBDAY
H4PPYBDAY2
4X3Y
CARVY1
CARVY2
CARVY3
CARVY4
AUSH1
FESH3
FESL2
FETI4
FRSA6
FESH
SPLA7
Note: These Carv's Murder Mystery codes may be case-sensitive and may only be redeemable for a limited time. It is always best to bookmark this website for the most up-to-date list of codes.
Find codes for other popular games on our Roblox Promo Codes Hub page.
How to redeem Carv's Murder Mystery promo codes?
To redeem codes in Carv's Murder Mystery, follow these simple steps:
Start the game and click on the "Inventory" button on the left side of the screen.
Click on the "Enter a Code" section on the bottom right corner of the new window.
Enter all the codes given and click on the "Redeem" button.
If the code is valid, you will receive all the rewards associated with it.
Do be sure to check out – Mid Piece codes & Dragon Ball N codes
How to get new codes for Carv's Murder Mystery?
There are a few ways to find new Carv's Murder Mystery codes:
Follow the developers on YouTube and Discord for new codes and updates.
When you enter the game there is board in the main lobby with a list of all active codes.
Join the official Carv's Murder Mystery Roblox group.
Overall, the best place to find new codes for Roblox Carv's Murder Mystery game is this website only. We make sure that you are getting accurate and up-to-date information about the game.
Happy Gaming!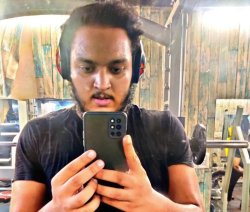 Latest posts by Amir Shiraz
(see all)