Get all the new Dragon Ball N codes here on this page. "Dragon Ball N" (DBN) is published by "Nib Kingdom" on the Roblox platform. This game has a combo-based fighting system that enables you to edit the move sets of your characters and take part in competitions. Characters from the Dragon Ball Z, GT, and Super anime series are available for selection, and you can further modify them with skins, moves, and stances.
But that's not all you can use Roblox Dragon Ball N codes to unlock premium rewards for free. Whether you're looking for skins, items, or in-game currency, this list of codes will help you unlock new possibilities and become the ultimate warrior.
So, without further ado, let's dive into the world of Dragon Ball N and see what codes we have in store for you!
Active Roblox Dragon Ball N Codes
There are a few things you need to bear in mind before you begin redeeming these codes. First of all, remember that the codes are case-sensitive and should be entered precisely as they appear. So make sure to double verify the capital and lowercase characters if you're trying to redeem a code and it's not functioning. Second, remember that most of the codes only have a short window of time to be redeemed, so it's better to do so right away.
Find codes for other popular games on our Roblox Promo Codes Hub page.
Where to find new Dragon Ball N codes?
Are you a fan of Dragon Ball N seeking for the newest codes to enhance your gaming experience? You're in luck, though, because we know where to look for the game's active codes. The official Dragon Ball N social media profiles on sites like Twitter and Facebook are the first place to look, as the creators frequently share fresh codes for users to use there.
Another great place to find codes is through the official Dragon Ball N community on Discord Server, where developers often share codes. Or you can just keep checking back here and we'll keep you updated on all the latest codes as soon as they're available.
Either way, you're sure to become the strongest warrior in the Dragon Ball N universe.
Also see – Anime Clicker Champions codes, Carv's Murder Mystery codes and Geometry Defense codes!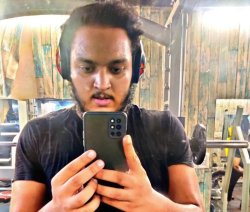 Latest posts by Amir Shiraz
(see all)