Are you having trouble finding the latest active Color Tower Race codes to get some exciting rewards? It can be a real hassle to search for working codes all over the internet. But don't worry, we have got the perfect solution for you!
Our guide has gathered all the current active codes in one place, making it easy for you to access them and get your hands on awesome freebies like EXP boost, free coins, cash, and free spins.
Plus, we've also included simple steps to help you redeem your Color Tower Race codes quickly and effortlessly. So sit back, relax, and let us help you score those rewards!
Color Tower Race Codes Wiki
Remember that codes in Color Tower Race game are case-sensitive. This means that you must type them in the exact same way they are written in the list to avoid errors.
Another important point to note is that codes usually have a limited validity period. So, it's best to redeem them as soon as possible before they expire.
Active Color Tower Race Codes
RELEASE – Gives free cash!
If you have any questions or concerns about codes, don't worry! We've got you covered with our FAQ section below. It provides detailed information that can help answer your queries.
Color Tower Race FAQ's
What is Color Tower Race?
It is a latest Roblox game released by "Lead Games" in which you have to run to the color that is shown before the time runs out. If you stand on the wrong color, you lose the game. The pace quickens as you advance in the game. But, if you make a mistake, you won't have to restart the entire game because checkpoints are located all throughout it.
The ultimate objective of the game is to make it to the end successfully and win exciting prizes!
Where can I find new codes?
You can find new codes for Color Tower Race game on the official social media accounts, on fan pages, forums, and quite easily on website like ours that is dedicated to the game.
How do I redeem codes in the game?
To use Color Tower Race codes, first, click on the 'codes' icon located on the main screen of the game. Then, click on the 'empty field' section and enter the code exactly as it is given in the list above, paying attention to uppercase and lowercase letters.
At last, click on the 'redeem' button to claim your rewards.
Can I use a code more than once in the game?
No, you can only use a code once. After that, it becomes invalid and cannot be redeemed again.
We hope that this guide has been helpful in providing you with the latest active codes for the Color Tower Race game.
Please feel free to post your questions below if you still have any problems with Colour Tower Race codes. We'll be glad to assist you!
For more Roblox freebies – check out Project Mugetsu codes & Break Wall Simulator codes list.
This article is part of our Roblox Promo Codes directory.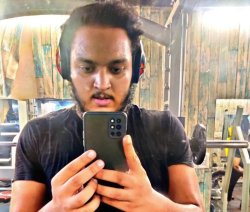 Latest posts by Amir Shiraz
(see all)