Here you will find the active list of DREAM-SIX codes. The DREAM-SIX game is a latest addition on the Roblox platform. Developed by FRANK FANCLUB, it focuses on exploration and battle against mighty enemies in super cool dungeons. As you progress, you will have to collect over 35 unique characters in DREAM-SIX game. But that's not all, the developers have also started releasing codes that you can use to unlock special rewards.
Looking for new Roblox content? Check out our Mage Tycoon codes and Longest Answer Wins codes.
So, without ado let us find out all the new codes for DREAM-SIX game.
DREAM-SIX Codes Wiki 2023
5000LIKES – Get 500 Gems (Added on 6th Feb 2023) [NEW]
4500LIKES – Free 450 gems
4000LIKES  – Free 400 Gems

3500LIKES – Get 350 Gems
1000ERRORS – New data compensation code
DREAM23 – Redeem & obtain x10 Summons
REBIRTH – Redeem & obtain x400 Gems & x5000 Gold
100KVISITS – Redeem & obtain x1500 Coins
EASY1K – Redeem & obtain x1500 Coins
10KVISITS – Redeem & obtain x1500 Coins
ITWASADREAM – Use this code as a compensation for reset.
Please Note: Some DREAM-SIX codes are case-sensitive and most of them can only be redeemed for a limited time. It is always best to bookmark this website for the most up-to-date list of codes.
Find codes for other popular game on our Roblox Promo Codes Hub page.
Steps to redeem DREAM-SIX promo codes
See the image above for reference and follow the steps given below to redeem DREAM-SIX promo codes easily:
Start the game and click on the "Settings" icon on the right hand side of the screen.
On the bottom of the new window click on the "Input Code" text field section.
Enter all the codes in the text area
Now click on the "Redeem" button.
If the code is valid, you will receive a free boost and coins.
How to get new codes for DREAM-SIX?
Are you finding it hard to get new codes for DREAM-SIX game? Fear not, dear player! There are many ways to find fresh and exciting codes to use in-game. Here are a few ideas to get you started:
Follow the developers on social media, such as Twitter and Discord.
Check the official Subreddit and community forums dedicated to DREAM-SIX game.
Join the official group of developers on Trello. This is a great way to stay up-to-date on the latest & updates.
Keep an eye out for special events or holidays. The game developers may release codes to celebrate these occasions.
If you're a fan of the Roblox game DREAM-SIX, you might want keep an tabs on this page for latest code updates. We keep a running list of all new codes, so you don't have to waste your time searching for them anywhere else. Whether you're searching for a specific code or just want to see what's currently available, this page is an excellent resource for you.
Plus, we will also be writing a beginner guide, and other tips an tricks that can help to get started and also improve your chances of success in DREAM-SIX. So, it's a one-stop-shop for all your DREAM-SIX needs.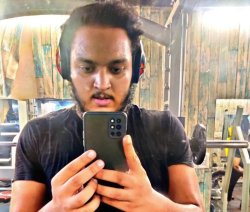 Latest posts by Amir Shiraz
(see all)