Here you will find the latest Strong Fighters Simulator codes. Developed by "Moonlight Simulators", Strong Fighter Simulator is a Roblox game that is all about lifting weights to increase strength and level up. As you progress, you can unlock new weights to continue building strength. You can also earn multipliers by rebirthing, which further enhances strength and gameplay experience. The game is simple and easy to understand, but challenging to master as you strive to become the strongest fighter possible.
Check out the most recent list of Strong Fighters Simulator coupon codes below before you begin lifting, though. These codes work as anabolic steroids for your character without the risk of getting caught. Just kidding, but by using these codes you can improve your performance without breaking the law. You will be the smart and strong avatar in the game with the help of these codes.
If you are a pro Roblox player, then you must check out Da Hood Rev Trainer codes & 2 Player Pizza Factory Tycoon codes pages.
Strong Fighters Simulator Codes (Updated)
GOODLUCK – Free Gems!
WORLDS – 2,000 GEMS
HELL – 10,000 GEMS
DESERT – 10,000 STRENGTH
LIFT – 25,000 STRENGTH
Enter these codes in-game to redeem the corresponding bonuses as soon as possible. Don't miss out on the chance to get a boost in gems or strength.
Find codes for other popular games on our Roblox Promo Codes Hub page.
How to redeem Strong Fighters Simulator promo codes?
To redeem Roblox Strong Fighters Simulator promo codes, all you have to do is see the image above and follow the steps given below:
Log in to your Roblox account and launch the Strong Fighters Simulator game.
Look for the "Codes" gift box icon, which is located at in the left side of the main lobby.
Once you find the icon, click on it, and a window will appear where you can enter the code.
Type in the code inside the "Redeem Code" section, making sure to double-check for typos.
Hit the blue "Submit" button, and if the code is valid, you'll receive your rewards.
Love cat games? See Cat Infection codes!
How to get new codes for Strong Fighters Simulator?
Are you looking to beef up your game and unlock some new codes for Strong Fighters Simulator? Look no further! Here are a few tips on how to find new codes:
Check the developer's social media pages: The developers of Strong Fighters Simulator, often release new codes on their social media. Follow them to stay updated on the latest codes.
Join the community: Join the Strong Fighters Simulator community on Roblox, and you'll be able to interact with other players who might have new codes to share.
Be on the lookout for in-game announcements: Sometimes, new codes will be announced in-game, or given in the game description, so make sure to keep an eye out for any pop-ups or notifications.
Remember, with new codes, comes new strength and power. So, stay on the lookout and get ready to become the strongest fighter on Roblox.
Happy Lifting!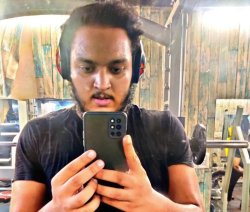 Latest posts by Amir Shiraz
(see all)