Who doesn't enjoy getting free in-game rewards and perks? Starfall Fantasy Neverland gift codes will help you to obtain some really awesome boosts for your adventures. In Starfall Fantasy: Neverland, you will travel to a futuristic world and return with epic combat skills. You can also play this game with your virtual partner and together you can collect cute Pets and ride unique Mounts.
One of the most exciting features of Starfall Fantasy: Neverland is the ability to switch between different personas. You can be anyone from an architect to a farmer to an assassin. You can even adopt multiple identities and transform into a God, a Lancer, a Mech, etc., but did you know there are gift codes that can unlock even more possibilities?
In this article we will be giving you all the new codes that can enhance your gaming experience. So, let's get started!
Starfall Fantasy Neverland Gift Codes
Bad news folks, it looks like the Starfall Fantasy Neverland code fairy has decided to take a vacation, because:
Gimmeakiss
ForgiveNForget
HeroDad
Roseisred
Watertheflower
Takeitslow
WeAreFamily
GMNOCODE
Easter2023
WorldHealth
WorkHardPlayHard
IZZAPRANK
one11111
FooledApril
EarthHour2023
Invalidcode
whiteday
Letmedoit4u
WhiteValentines
JollyNeverland
SF2023
starfall2023
RABBIT2023
SFLAUNCH
STAR777
But don't despair, you should bookmark this page for latest updates as we will update the list with new codes when they are released. Who knows, maybe the code fairy will come back from vacation with a bag full of goodies for us all.
For now, let's just enjoy the game and hope for the best, because let's face it, playing without a code is like playing Monopoly without a thimble, it's still fun but it's not the same.
If you also play Beedom, we have all the free in-game redeemables for you. Find out all with our Beedom codes guide.
Where to get new Starfall Fantasy Neverland codes?
The best way to stay updated on new Starfall Fantasy Neverland codes is to keep an eye on the game's official website, social media accounts like Facebook and Reddit forums. You can also communicate with the developer, Eyogame Global in their official Discord server and ask for new codes, stay in the loop with relevant announcements, and upcoming updates. So, don't worry if you're feeling left out, new codes may just be around the corner.
How to redeem codes in Starfall Fantasy?
Redeeming codes in Starfall Fantasy: Neverland game is a very easy process. Here's how you can do it:
Step1: Open the game and click on the "Menu" button which is located in the main lobby.
Step2: Select the "Gift Code" option which is available inside the "Settings" tab.
Step3: Now enter all the codes with no spaces.
Step4: Finally tap the "Submit" button and your codes will be automatically applied.
Step5: You can check your inventory to claim the items that were unlocked.
However, keep in mind that some Starfall Fantasy Neverland gift codes can only be used once per account, and other codes will have expiration dates, so make sure to redeem them as soon as possible.
Keep an eye out for new codes and don't forget to have fun!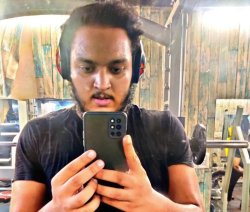 Latest posts by Amir Shiraz
(see all)