Are you struggling to amass wealth and establish yourself as a legendary pirate in the new Plunder Realm game? Worry not!
I've put together a list of all currently active Plunder Realm codes so you can get past these obstacles and realize your full potential as a Pirate King. With the help of these Plunder Realm gift codes, you can get a lot of money and power-ups that will help you defeat your opponents and rule the seas.
Other popular codes — Rise Of Saiyan gift codes | Five Emperors Battle gift codes | Cards and Castles 2 codes | Z Ball Saga codes | Brave Forward Magic World gift codes | Starlight Quest codes
Plunder Realm Codes List
Redeem the following Plunder Realm codes for gold coins, a bundle of gems, food supplies, a magic book, and other items.
SETSU
OP666
OP777
OP888
ONEPIECE11
VIP666
VIP888
LUFFY
ONEPIECE
ACE
Op6
Op7
Op8
Free5star
Freessr
Zero
Uta
Red
HAPPY666
LUCK888
GOOD999
HAPPY888
Onepiece33
Onepiece22
ONEPIECE888
202311ZORO
PK888
ONEPIECE777
Epicsummon50
Frequently Asked Questions
What is the main aim of this game?
Plunder Realm is a new mobile game in which your goal is to climb the ranks of the pirate world, vanquishing rivals and establishing your dominance. As you progress, you'll face off against legendary pirates such as Blackbeard, Rob Lucci, Bartholomew Kuma, and many more.
How to redeem Plunder Realm gift codes?
Redeeming these Plunder Realm gift codes is really easy. You only need to do the following:
Launch the game on your mobile
When you load the game, tap the Avatar icon and then the Redeem Code option
After that, tap the Confirm button
One by one, enter or paste the codes to redeem them.
How can I verify if a coupon code is real?
Not being able to use a coupon code is very annoying. Since I play games as well, I understand how crucial it is to obtain the verified codes. Here's what I do to make sure you always get the best active Plunder Realm coupon code:
I test all of them: Before I share any of the coupon codes with you, I personally test each one.
I publish FAST: When I find a new coupon code, I publish it as quickly as possible. I know that some codes expire, so I don't want to waste any time getting them to you.
I don't steal: Some other websites steal coupon codes from my website, but I don't do that. I only share Plunder Realm codes from official sources, such as the official website and social media channels.
I hope you found this list useful. Please feel free to leave your feedback in the comment section below.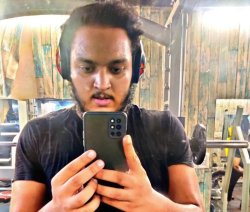 Latest posts by Amir Shiraz
(see all)