Brave Forward Magic World is a game in which you must gather resources, assemble a team of heroes, and battle to get through a variety of challenges. However, gathering resources can be a challenging and time-consuming job.
To help you overcome these problems, I've compiled a list of working Brave Forward Magic World codes. These codes act as keys to a variety of resources, allowing you to fulfill your magical potential and complete even the most difficult missions.
Other popular codes — Universe Warriors Epic Conquest gift codes | W Cross World gift codes | Cards and Castles 2 codes | Z Ball Saga codes | Sky Fortress Odyssey codes | Rise Of Saiyan codes
Brave Forward Magic World Codes List
Redeem the following Brave Forward Magic World codes for Gold Coin, Golden Key, Advance Certificate, Strength Codes, and other rewards.
preregistration
preregistration2
follow
VIP666
VIP888
positive0212
Frequently Asked Questions
What is the main aim of this game?
Brave Forward: Magic World is an Android game released by MC Entertainment where you can create your own legendary story by becoming a true magician, unlocking cards, exploring new worlds, and breaking dark spells.
You can also assemble legendary teams by recruiting mages of various professions. You can master skills and make your team invincible by upgrading their abilities. You can also take part in dungeon quests and unravel unique stories in each place.
How to redeem Brave Forward Magic World gift codes?
Redeeming these Brave Forward Magic World gift codes is really easy. You only need to do the following:
Launch the game on your mobile
When you load the game, tap the Avatar icon and then the Activation Code option
After that, tap the Confirm button
One by one, enter or paste the codes to redeem them.
How do I check the authenticity of a coupon code?
Not being able to use a coupon code is very annoying. Since I play games as well, I understand how crucial it is to obtain the verified codes. Here's what I do to make sure you always get the best active Brave Forward Magic World coupon code:
I test all of them: Before I share any of the coupon codes with you, I personally test each one.
I publish FAST: When I find a new coupon code, I publish it as quickly as possible. I know that some codes expire, so I don't want to waste any time getting them to you.
I don't steal: Some other websites steal coupon codes from my website, but I don't do that. I only share Brave Forward Magic World codes from official sources, such as the official website and social media channels.
I hope you found this list useful. Please feel free to leave your feedback in the comment section below.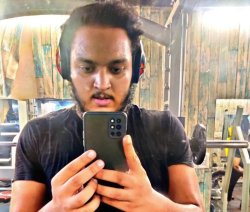 Latest posts by Amir Shiraz
(see all)