Get the newest code for Shinobi Saga here on this page. Developed by "Shinobi Saga Community", Shinobi Saga is a closed community Roblox game inspired by the world of Naruto. The community is built on the foundation of a unique story that unfolds through permadeath events. The actions of players shape the outcome of the story, making every experience unique and exciting. In addition, redeeming Shinobi Saga codes gives access to premium items for free in the game.
In this article we will give you all the new and working codes for Shinobi Saga that you can use as of today.
So, let's get started!
Roblox Shinobi Saga Codes Wiki
!BattleGround
!ITACHI
!1010
!Temari
Please Note: There will be some Shinobi Saga codes that may be case-sensitive and most of them can only be redeemed for a limited time. It is always best to bookmark this website for the most up-to-date list of codes.
Find codes for other popular games on our Roblox Promo Codes Hub page.
Steps to redeem Shinobi Saga promo codes
Follow the steps given below to redeem Shinobi Saga codes:
Launch the game and click on the "Profile Customization" button and the "Codes" option.
On the new window click on the empty text field section.
Enter all the codes given and click on the green confirm button.
If the code is valid, you will receive free spins, and cash rewards.
Related reads – Build A Noob Tycoon codes & Ken Omega codes.
Where to get new codes for Shinobi Saga?
The best place to find new Shinobi Saga codes is through the game's official social media pages like Twitter and Facebook, where the developers often post new codes for players to redeem.
Another great place to find codes is through the game's community on Discord Server, where "Shinobi Saga Community" who are the developers of this game often communicate and share updates with players.
In any case, you can always check back here and we'll keep you updated on all the latest codes as soon as they're available.
Happy Gaming!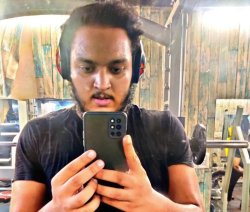 Latest posts by Amir Shiraz
(see all)