I've been playing Diminutive Hero's Odyssey for a while now, and I've had a lot of fun with it. The game is well-made and has a lot to offer, but it can be a bit challenging at times. That's why I'm always looking for ways to get ahead.
One of the best ways to get ahead is to use Diminutive Hero's Odyssey codes. They can give you access to free resources, exclusive items, and even special abilities. But finding codes can be a challenge. That's why I've put together a complete list of all active and working gift codes for Diminutive Hero's Odyssey game.
I'll also show you how to redeem the Diminutive Hero's Odyssey codes so that you can start enjoying the benefits right away.
Other popular codes — Rise Of Saiyan gift codes | Five Emperors Battle gift codes | Starlight Quest gift codes | Plunder Realm codes | Brave Forward Magic World gift codes | Arcane Guardians codes
Diminutive Hero's Odyssey Codes List
Redeem the following Diminutive Hero's Odyssey codes to unlock Gold, EXP, Ingot, Tibetian Scripture Scrolls, and other premium items.
yanqilibao
jianghu2156
jianghu7123
jianghu9611
newseverreward1
disyaoqing
Frequently Asked Questions
What is the main aim of this game?
Diminutive Hero's Odyssey is an authentic Eastern martial arts-themed RPG by HUAGUAN NETWORK TECHNOLOGY LIMITED where you can choose your favorite martial arts school and master various exquisite moves and techniques to create your own unique Kung Fu style.
Your main aim is to participate in intense battles, challenge your enemies, explore hidden martial arts realms, and become a legendary figure in the martial arts world.
How to redeem Diminutive Hero's Odyssey gift codes?
Redeeming these Diminutive Hero's Odyssey gift codes is really easy. You only need to do the following:
Launch the game on your mobile
When you load the game, tap the Profile icon and then the Gift Code option
After that, tap the Confirm button
One by one, enter or paste the codes to redeem them.
How do I verify if a coupon code is real?
Not being able to use a coupon code is very annoying. Since I play games as well, I understand how crucial it is to obtain the verified codes. Here's what I do to make sure you always get the best active Diminutive Hero's Odyssey coupon code:
I test all of them: Before I share any of the coupon codes with you, I personally test each one.
I publish FAST: When I find a new coupon code, I publish it as quickly as possible. I know that some codes expire, so I don't want to waste any time getting them to you.
I don't steal: Some other websites steal coupon codes from my website, but I don't do that. I only share Diminutive Hero's Odyssey codes from official sources, such as the official website and social media channels.
I hope you found this list useful. Please feel free to leave your feedback in the comment section below.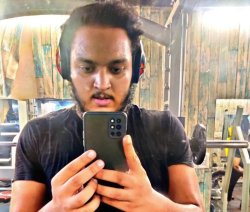 Latest posts by Amir Shiraz
(see all)