Are you on the hunt for the latest Ultimate Pirate Ship codes? You're in luck! We've got all the updated and working codes right here. Not only that, but we'll also guide you on how to redeem these codes to unlock exciting in-game rewards.
NATIRENTSE, Ultimate Pirate Ship! Set sail on a thrilling adventure in this new Android game. Choose from hundreds of pirate characters, master skill matching for powerful combos, enjoy exciting activities for abundant rewards, and engage in intense battles against bosses and players. See if you can conquer the high seas, assemble the most powerful crew, and become the legendary pirate captain in Ultimate Pirate Ship!
And now, onto the Ultimate Pirate Ship codes! These codes provide you with in-game rewards that can enhance your progress. Remember, codes have expiration dates, so make sure to redeem them before they vanish into thin air. Stay tuned as we update this list with all the latest additions and ensure you don't miss out on any special program livestream codes in the future.
EPICSUMMON50
ONEPIECE666
ONEPIECE777
ONEPIECE888
EpicSummon66
EpicSummon88
q5v37uxuud
74tvp3prkq (VIP12)
Ultimate Pirate Ship Codes FAQs, Answered
How To Redeem Promo Codes?
To redeem your Ultimate Pirate Ship coupon codes and claim your rewards, follow these simple steps:
Launch the game on your mobile device and tap on the "Avatar" icon.
Tap on the "Benefits" and "Redeem Code" option on the new window.
In the provided text box, carefully enter or copy and paste the codes we've provided.
Confirm your entry, and the codes will be applied automatically.
Don't forget to check your in-game mailbox to collect the unlocked rewards.
Follow these steps carefully to successfully redeem your Ultimate Pirate Ship promo codes and enjoy the incredible rewards they offer.
How To Find Ultimate Pirate Ship Gift Codes?
If you're looking to score more gift codes for Ultimate Pirate Ship, you're in luck! There are several effective ways to acquire them. Firstly, make sure to subscribe to the official Twitter, Instagram, and Discord accounts. The developers frequently release new codes on these platforms. Secondly, keep a keen eye out for special in-game events or promotions, as they often include gift codes as rewards.
If you want to streamline the process and find codes more efficiently, simply bookmark this page by pressing CTRL + D on your keyboard. This way, you can easily return to it whenever you need to check for new codes without the hassle of searching through various social media platforms or Discord servers.
Are Codes Free To Use?
Yes, Ultimate Pirate Ship codes are typically provided to players as a promotional feature by the developers or through official channels.
These codes allow players to unlock various in-game rewards such as gems, avatar outfits, gold, and more. The Ultimate Pirate Ship codes are generally free to use and do not require any payment or purchase.
How Many Times Can You Use A Ultimate Pirate Ship Code?
You can only use each Ultimate Pirate Ship code once per player account. If you've already redeemed a code, attempting to redeem it again will result in an error message stating that the gift code has already been used. Make sure to use the codes wisely and take advantage of their benefits during your first redemption.
We genuinely hope that you've found this list of Ultimate Pirate Ship gift codes helpful. However, if there are any codes we might have missed, please kindly let us know in the comment box below. Your contribution will be greatly appreciated!
If you want more in-game rewards, be sure to check out the newest 7 Billion Zombies codes, Nautical Apocalypse codes, Soul Chronicle codes, Digi Xro War codes, Legend of Fighters Duel Star codes, Ninjas Assembled Revolution codes, Naruto Chakra Saga codes, Selected Partners Adventures codes, and Ancient Ninja Idle codes list.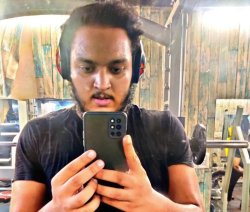 Latest posts by Amir Shiraz
(see all)