Hi guys, In this Clash Mini Beginner Guide, we will explain to you all Clash Mini Tips & Tricks, Clash Mini-FAQ, How Rumble Mode Works, Clash Mini Season Reset Rewards, and much more.
If you're looking for a Clash Mini Hero Guide as well as a Clash Mini Strategy & Battle Guide, see our Clash Mini Wiki
Complete Daily Quest in Clash Mini
Just Like every other Supercell game Clash Mini has a Quest option where you can complete Quest to get free prizes in Clash Mini if you are a free-to-play player. In the Quests Section, you can complete all of the available Challenges to get special goodies like Pony Fuel, Gold, and more. There are now two types of quests available in the game.
Daily Quest
There are seven different free daily quests available right now for you to complete. Keep in mind that all quests you complete will be renewed, and if you don't complete any quests, the ones you haven't completed will remain in your Quest tap until you complete them. A reroll quest option is also available, which allows you to reroll one quest per day to acquire a new one of the same type.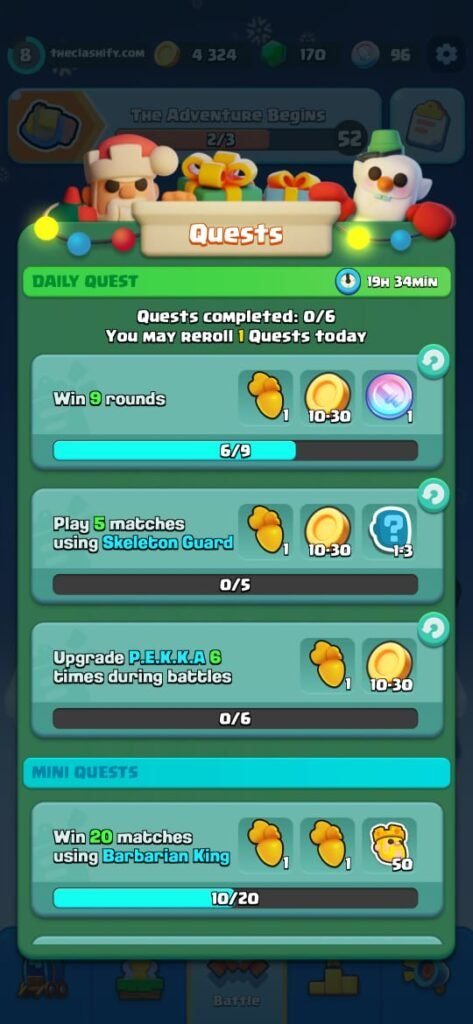 Below is a list of the different types of quests available in Clash Mini, which you can access on your Quests tab.
Win X Rounds

Win 3:0 in a Duel

Win X rounds without any of your Minis being knocked out

Win X matches without rerolling

Play X Games using X Mini

Play X Games using X Hero

Knockout X enemies

Use Clash abilities X times

Upgrade X times during Battles

Finish as the Champion in a Rumble
Mini Quests
Mini Quests are only available for a short time. When you unlock a new Mini, a set of Quests will appear in your Quests area for you to complete.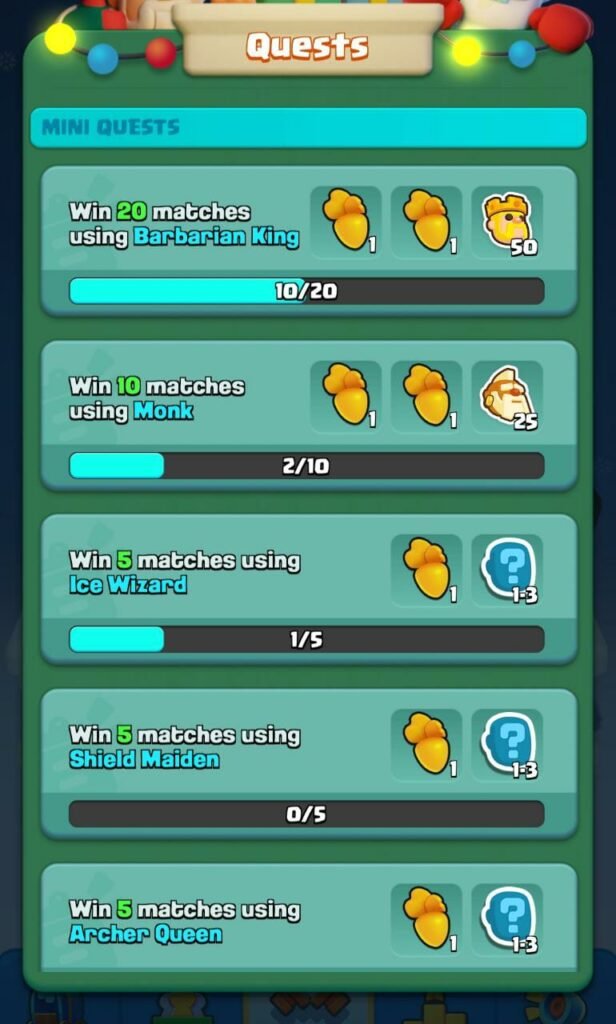 Win 1 Game using X Mini

Win 3 Games using X Mini

Win 5 Games using X Mini
Quests Reroll
You can use quest reroll to modify your quest. By default, you can reroll one Quest per day by pressing the Reroll Button on each Quest.
Choose Best Clash Mini Deck
The deck is one of the most important aspects of Clash Mini; whenever you go into a battle, make sure you're using the best Clash Mini deck. There are numerous decks available in the game, but the Countess Deck and Shield Deck are two of the most popular in the current Clash Mini meta.
Here is a List of Clash Mini Meta Deck
The Clash Mini Pekka Deck objective is straightforward: guard your backline while distracting the opposing Countess. Also have a good frontline to stay alive Giant Skeleton bomb(s).
Deck Placement rotation
This Clash Mini Pekka deck is really key to avoiding Spear Goblins and Bowlers. You can still tank them, but you'll be giving up unfair advantage.
I usually pick one corner to place my backline and stick to it until I win my first round. Then I swap corner and (usually) win again, since once you have your final setup with this Clash Mini deck is really hard to beat it. When I'm one victory away, I keep to the corner I already am, since the adversary most likely will think I'm going to swap corner again and try to predict it.
How does Clash Mini Rumble Mode work?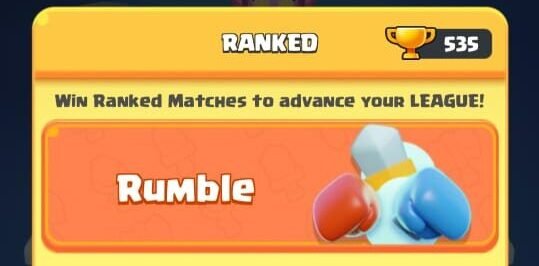 8 players are split into 2 groups of 4 players per group
All players play 3 rounds against the members of their group
Players with 2 or more wins after 3 rounds qualify for the Finals
If you lose in the finals (Semi-final or final rounds) you are eliminated
The last player standing is the Champion
Clash Mini Season Reset FAQ
Q: Do you reset Minis and Heroes?
A: Only Minis get reset and we only reset their stars progression.
Q: Do ALL abilities & upgrades of Minis change in a new season?
A: NO. Mostly we will change upgrades of some select Minis so that minis keep their core identity, but get a new update that includes some of the new mechanics we introduce that season.
Q: What is in a Star Box?
A: It depends on how many stars you cash in, but the short answer is Lots of the new season Minis to get you started, lots of gold, gems, probably a bunch of Hero fragments and more stuff in the future as we implement new features.
Q: How often will season resets happen?
A: At first we are not sure, we will be focusing on bringing new features like Mini Clans so the first reset might take longer but at some point in the future, we hope to do a season reset every 2-3 months (exact time tbd)
Q: What happens if I skip a season?
A: Reset is applied based on the progress you had the last time you logged in. If you got max stars in season 1, but only logged-in again at season 4, you will get the top tier season 4 Star Box.
That's it for this Clash Mini Beginner Guide, Quest, Season Reset & Rumble Mode Guide.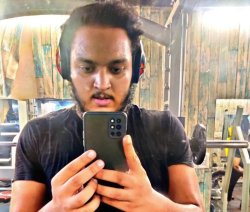 Latest posts by Amir Shiraz
(see all)