Hi guys, today we are going to discuss the Clash Mini Swordsman strategy. In this guide, we will talk about Clash Mini Swordsman Deck, Stats, and ability. Swordman was released in March 2022 along with Fisherman and Witch. Clash Mini Swordsman often is very good with isolated targets especially if the third upgrade is chosen right away.
Clash Mini Swordsman (Base Ability) – Sword Dance: Strikes 5 times at random nearby enemies [ Super ]
Clash Mini Swordsman
Elixir Cost
 2 Elixir
Rarity
Mini
Type
Melee Unit
Release Date
3rd match 2022
Clash Mini Swordsman Ability
Fisherman
Star Abilities
Stats
Mastery, Gains full energy when Swords Dance scores a K.O.
DPH – 1 and Hp – 5 [ 6, 7, 8 ]
Big Fish, Each strike from Swords Dance stuns the enemy for 1.5
Base [1 star, 2 stars, 3 stars]
Wild Fish, Strikes up to 9 times but can also hit allies
Energy – 5 and Hit per Second – 0.65 [ ~0.1 ]
Clash Mini Swordsman Upgrade
Clash Mini Swordsman Deck List
Swordsman performs well as an Attacking mini in  Clans mini decks, so you may swap him out for any other mini you're using as an Attacking mini.
Best Swordsman Deck with Countess
Giant Skeleton
Swordman
Spear Goblin
Fisherman
Archer
Best Swordsman Deck with Shield Maiden
Mini Pekka
Swordman
Witch
Mega Knight
Miner
Best Swordsman deck with Monk
Giant Skeleton
Swordman
Musketeer
Wizard
Archer
Best Swordsman deck with Barbarian King
Swordman
Archer
Mega Knight
Guards
Fisherman
Best Clash Mini Swordsman Deck with Archer Queen
Fisherman
Swordman
Skeleton Guard
Miner
Prince
So that's it for this. Also, read here: Clash Mini Strategy & Battle Guide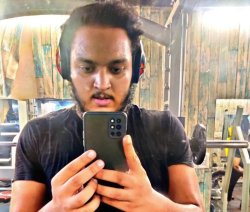 Latest posts by Amir Shiraz
(see all)