Welcome to the new Devil Hunter Idle best builds guide, an ultimate resource for players seeking to enhance their gaming experience of the level-based action idle RPG.
With hack-and-slash gameplay involving an infinite number of opponents in every level, unlocking the boss battles requires reaching a specific point threshold in each round, which is why we have curated this best Devil Hunter Idle builds to help you tackle this challenge with ease.
Devil Hunter Idle Best Builds Guide
To begin our discussion, let's delve into the guns build first.
Best Guns Build – Version 1
Summon Priority
SSS Gun
Relics until average Relic upgrade success chance is at ~40-30%
SSS Melee
SSS Ring and Necklace
BiS equipment. Priority is Gun>Ring/Necklace>Melee
Obtain all other SSS equipment to gain the "Owned Effect" stats. Priority is Gun>Melee>Ring/Necklace
Relics until all Relics are at Lv. Cap
Note: SS4s can promote into a random SSS at 4/4 duplicates.
BiS Equipment
Stage/Dungeon Boss
SSS Sword "Violet"
SSS Shotgun "Judge"
SSS Ring "Snake Death's Ring"
SSS Necklace "Dark Talisman"
Farming
SSS Sword "Soul Eater"
SSS Shotgun "Black Rose"
SSS Ring "Snake Death's Ring"
SSS Necklace "Dark Talisman"
BiS Equipment Options
4x SSS Shooting Power +35%
4x SSS DMG dealt on boss +27%
4x SSS DEF Penetration +27
3x SSS Reload Reduction +35%
1x Filler
After unlocking and getting Lv.25 Tactical Trick
4x SSS Shooting Power +35%
4x SSS DMG dealt on boss +27%
2x SSS Reload Reduction +35%
3x SSS Reduce Skill Cooldown 16%p
1x B Reduce Skill Cooldown 5%p
2x SSS DEF Penetration +27
Note 1: When it comes to dungeon bosses, DEF Penetration options have a higher damage yield over Reduce Skill Cooldown until your Tactical Trick skill is at least level 25. At higher skill levels, Reduce Skill Cooldown is always better.
Note 2: The minimum Reduce Skill Cooldown required is 53%. You can use different combinations to achieve this, example: 3xSSS + 1xB = 53% or 2xSSS + 1xSS + 1xS = 53%. It is not recommended to go higher than 53% because of extra cast animations.
Trait Points
Shooting
Gunslinger Training Lv.60
Capture Weakness Lv.100
Enhance Bullet Lv.100
Remaining points into Gunslinger Training
Best Guns Build – Version 2
Skills
Only use and equip Tactical Trick.
Note 1: You can equip Tactical Trick over other skills to remove them from the skill bar.
Note 2: You receive a 10% ATK buff for every 20 global skill levels. So it is recommended to raise all skill levels evenly early on.
Magic Cards
All we care about are the buffs we can get from the cards. Ignore damage numbers. Click on a card and you will see Chain Conditions and Occurring Buff on the right. Occurring Buff is the buff you gain when using the Card. Chain Conditions displays the Occurring Buff that is required to be active in order to cast it during a chain. The first card used ignores the Chain Conditions. Cards after the first can only be used in a chain. If the chain is broken they cannot be used.
BiS is any card with Shooting Power under Occurring Buff, followed by 3 Magic Cards with Shooting Power under both Occurring Buff and Chain Conditions.
Note 1: Shooting Power under both Occurring Buff and Chain Conditions can only be found on Light/Dark cards.
Note 2: Buffs from cards do NOT stack. Magic Cards on auto is a DPS loss as it refreshes the buff too fast. The buff is displayed as a yellow bar beneath your HP bar while the buff is active.
Note 3: When casting manually, use the next card in the chain before the bar reaches the > part of the bar. If you do it too late, the card may still be on cooldown during the next loop and break the chain. If you did it right, you can spam click the cards before they come off cooldown without having to time it correctly again.
Engravings
All points into [Core] Brand of the Execution
Personal preference on left over points.
Alchemy Traits
Eyes of Concentration lv.10 > Elixir of Attack lv.2000 > Bleeding Bullet lv.20 > Frantic Shot lv.30 > Sword of Slaughter lv.50
Note: Bleeding Bullet received a small buff in V1.29 update, but not enough to make it a priority.
Best Skill Build
Requirements
Money
having a decent amount of Magic Cards
Having a lot if not all SSS Gear Pieces
EQUIPMENT
Push
Sealed Holy Sword
Bullet Jazz
Sealed Mystic Eye
Dragon Heart
Farming
Soul Eater
Fatal Blow
Snake ring of Death
Dark Talisman
Important: Your main damage amp actually comes from Rings- so try to get your Gun and Melee to roughly 900 and then start maxing out ALL RINGS for max Damage.
OPTION ROLLS
Push
4x SSS CDR
4x SSS Reload Speed Adjust
4x SSS Skill Power
4x SSS Boss Damage
Farming
4x SSS Effect ACU
4x SSS Reload Speed
4x SSS Def Penetration
4x SSS Skill Power
Note: Reload is needed because of the passives of Fatal Blow and Bullet jazz- they are a huge part of the DPS.
ENGRAVINGS
Focus on Seal of Berserker Rage to amp Skill damage as much as possible.
TRAITS
Skill Training (60)
Piercing Arrow (100) Keep in mind total max is 100% crit rate- allocate accordingly to Skill Training if you are capped
Claws of the Beast (100)
Golden Hourglass (100)
Dump the rest of your trait points into Skill Training
ALCHEMY
Ancient Soul (10)
Elixir of Attack (2000)
Rune of Counterattack (20)
Resonance of Light (30)
Mana Conversion (30)
RUNES
Technique + Fading Image
Main Stat
1/3/5
1x HP%
1x Magic Card Damage%
1x HP Reg%
2/4/6
2x ATK%
1x Skill Damage%
Sub Stat Focus
1/3/5
CDR
Reload Speed
Effect ACU
Def Pen
HP%
HP Reg%
2/4/6
ATK%
Skill Damage%
Effect ACU
Def Pen
HP%
HP Reg%
SKILLS
Concentrated Gunfire
Divine Shield
Rain of Destruction
Bloody Saw
Important Note: Try to Maximize your CDR for the highest possible amount of Super Crit Rate!
Best Melee Build
Requirements
Important Note: Melee sucks at farming- use a gun or skill build for that
Character Level 580
Every SSS Gear
Alchemy done Elixir of Attack maxed and T1+T2 Maxed too
Why Character Level Requirement?
You need it for a specific trait to be effective
EQUIPMENT
Apocalypse
Agony of Death
Knights Sigil
Valkyrie Pendant
OPTION ROLLS
4x SSS Attack Speed
4x SSS Melee Damage
4x SSS Boss Damage
2x SSS Reload Speed try to reach 190% with runes
2x SSS Cool Down Reduction Try to reach at least 52% with Runes
TRAITS
Assassin's Dexterity (100) Keep in mind total max is 100% crit rate- allocate accordingly to Skill Training if you are capped.
Warrior's Soul (100)
Dancing Blade (100)
Single Killing Blow (100)
Rest into Swordsmanship Training
ALCHEMY
Elixir of Attack (2000)
Demonic Arm (10)
Soul of an Evil Spirit (20)
Taste of Blood (30)
ENGRAVINGS
Swordsmanship of Wolves
SKILLS
Moon Slash Priority skill- always keep 40+ Levels above
Blood Contract Second Priority Skill- advised to have 20+ Levels above
Rain of Destruction
Detonation Slash Substitute this with Divine Shield if you start dying
RUNES
SETS
Blade + Fading Image
MAIN STATS
Slot 1/3/5
Slot 2/4/6
SUB STATS PRIORITY
Slot 1/3/5
Attack Speed
Reload Speed Until mentioned max
Cool Down Reduction Until Mentioned Max
Def Pen
Def
Acu
HP%
Slot 2/4/6
ATK%
Melee Damage%
Def Pen
Def
Acu
HP%
Skill, Magic Cards & Demonization
Important Skills per build
Any build
Rain of Destruction
Gun
Tactical Trick
Melee
Blood Contract, Moon Slash
Skill-build
Concentrated Gunfire
If you start Dying
Important
Do NOT use skills while farming- Set auto hunter skills to Manual
Note: Try to level all skills evenly to maximize your Attack increase- the only skill that should be above your other skills should be your buff skill like TT or Moon Slash
Magic Cards
Farm
Ideal for HIGHEST KPM is 4x Dragons Breath
Since obviously you won't have these here is a list of good farming cards:
Homing Arrow (1-3 star)
Energy Orb (1-3 star)
Magic Missile (1-3 star)
Lightning Impact (4 star)
Demolition Aura (5 star)
Push
Essentially you want to focus on maximum amount of buff time- so try to have ur main damage type as last buff and fill as many buffs in as possible!
Demonization and Elements
Demonization Explained
It's a HUGE Damage buff with a set cooldown (influenced by your current hunter rank)
The Damage buff amount depends on your Equipped grade- same goes for the Elements
The Duration is Influenced by your License
Free to Play/Black = 10 Sec
Gold = 12 Sec
Platinum= 15 Sec
Pro Tip: Use Demonization at the end of a Stage Boss Fight to max out your damage potential
Elements Explained:
Fire -> Wood
Wood -> Water
Water -> Fire
Light <-> Dark
Important
B rank ELEMENT is still better then S rank without Element- Simply because of Runes and the fact that the base damage Increase of Element Advantage is 30%!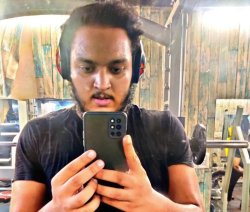 Latest posts by Amir Shiraz
(see all)